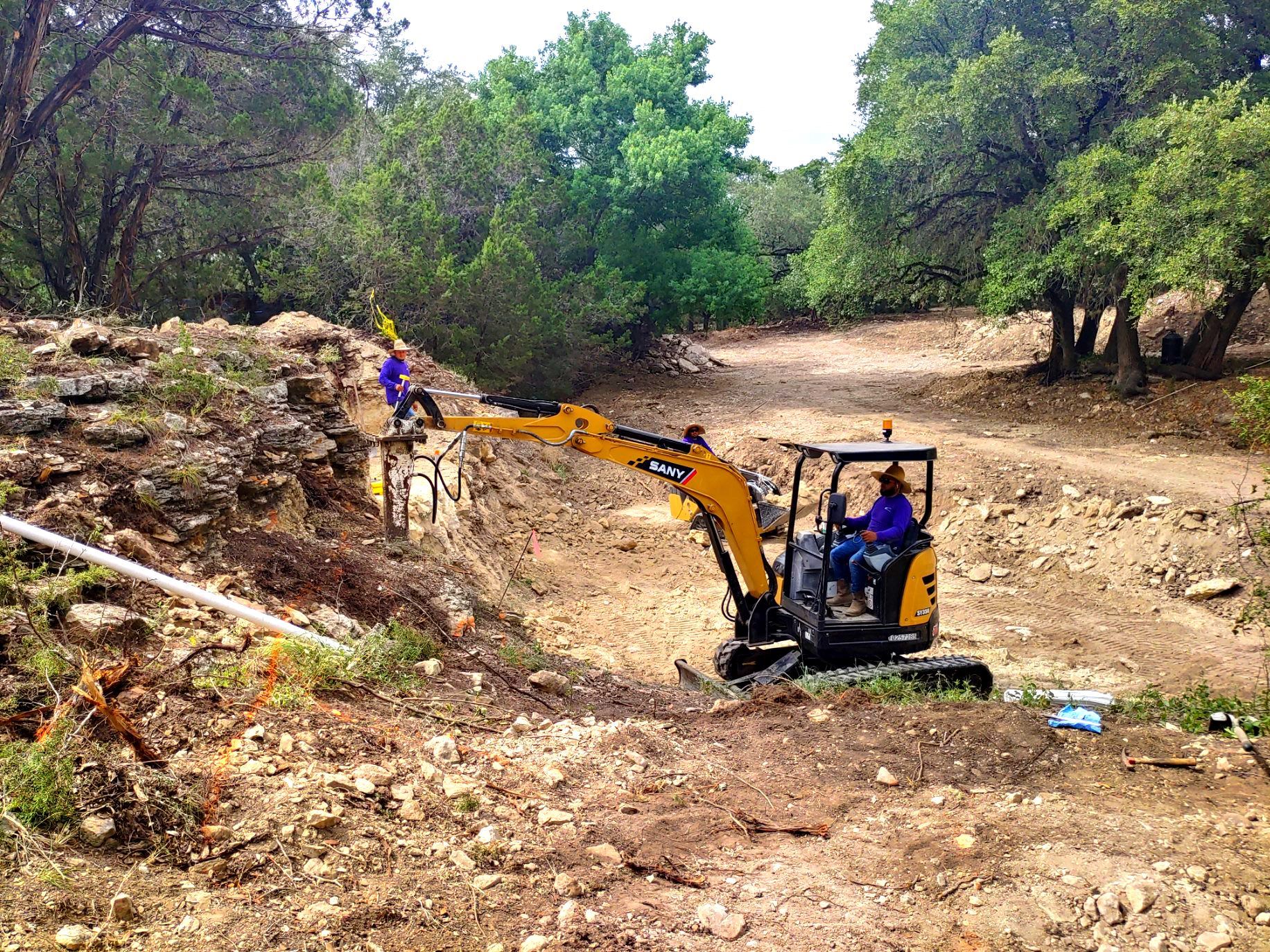 We have started construction on our water feature!
Our nature path is getting a brand-new-yet-like-it's-always-been-here attraction. A beautiful, serene waterfall, which will be the perfect spot to read a book, enjoy a picnic or maybe even get married while enabling social distancing outside?! This new feature will make for the perfect backdrop for your special day. We expect this project to be ready sometime this fall!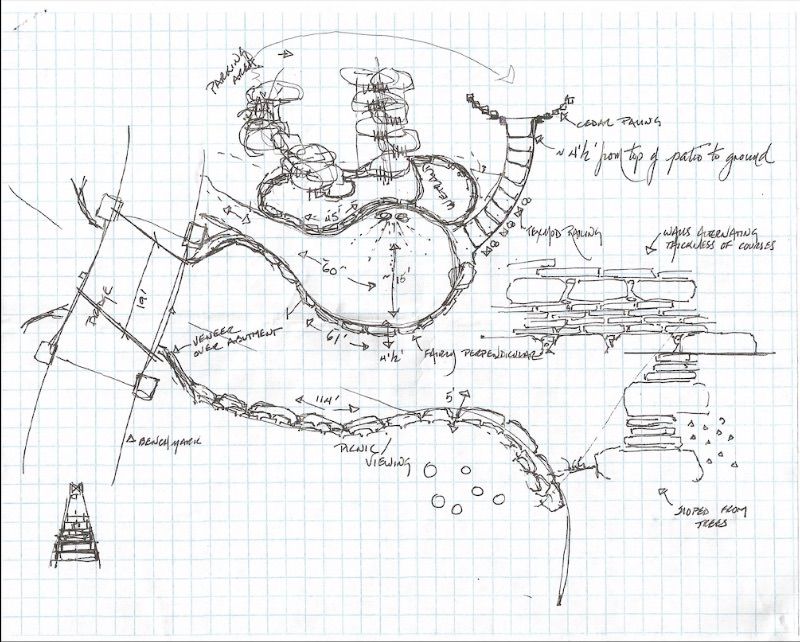 Pond Rendition of the waterfall feature: a concrete peninsula with stairs next to the waterfall, a tree retention area for capturing shade while enjoying the sounds and beauty of the moving water. Plus, a new bridge that allows golf carts and foot traffic to go over the wet weather creek.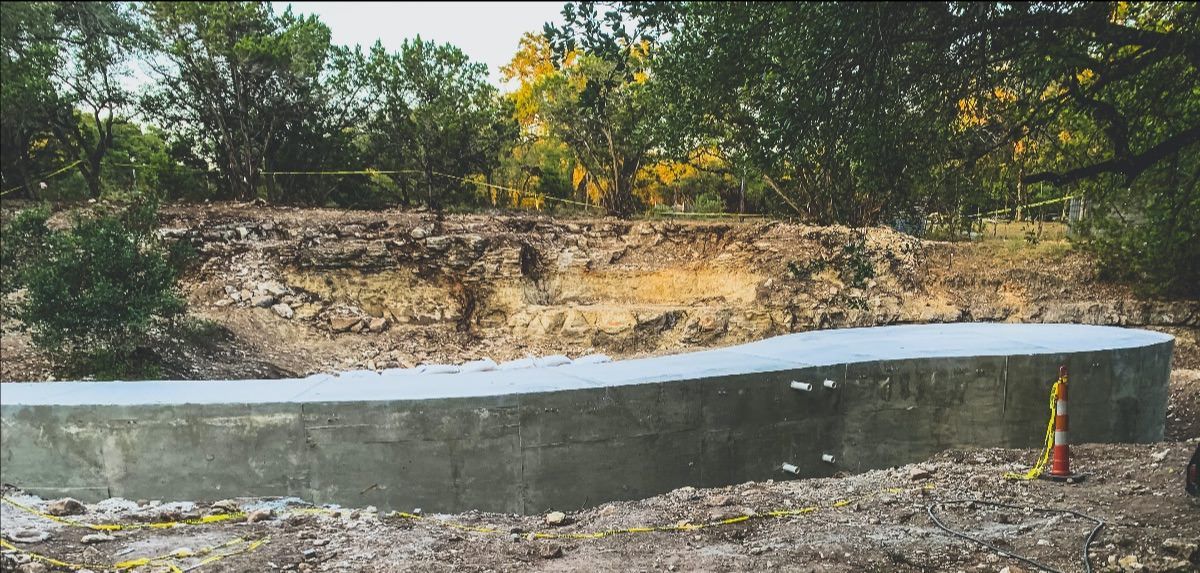 These pictures showcase the peninsula that will surround the waterfall. The waterfall will drop from the quarry wall into a large aqua block area that houses all the water for the waterfall.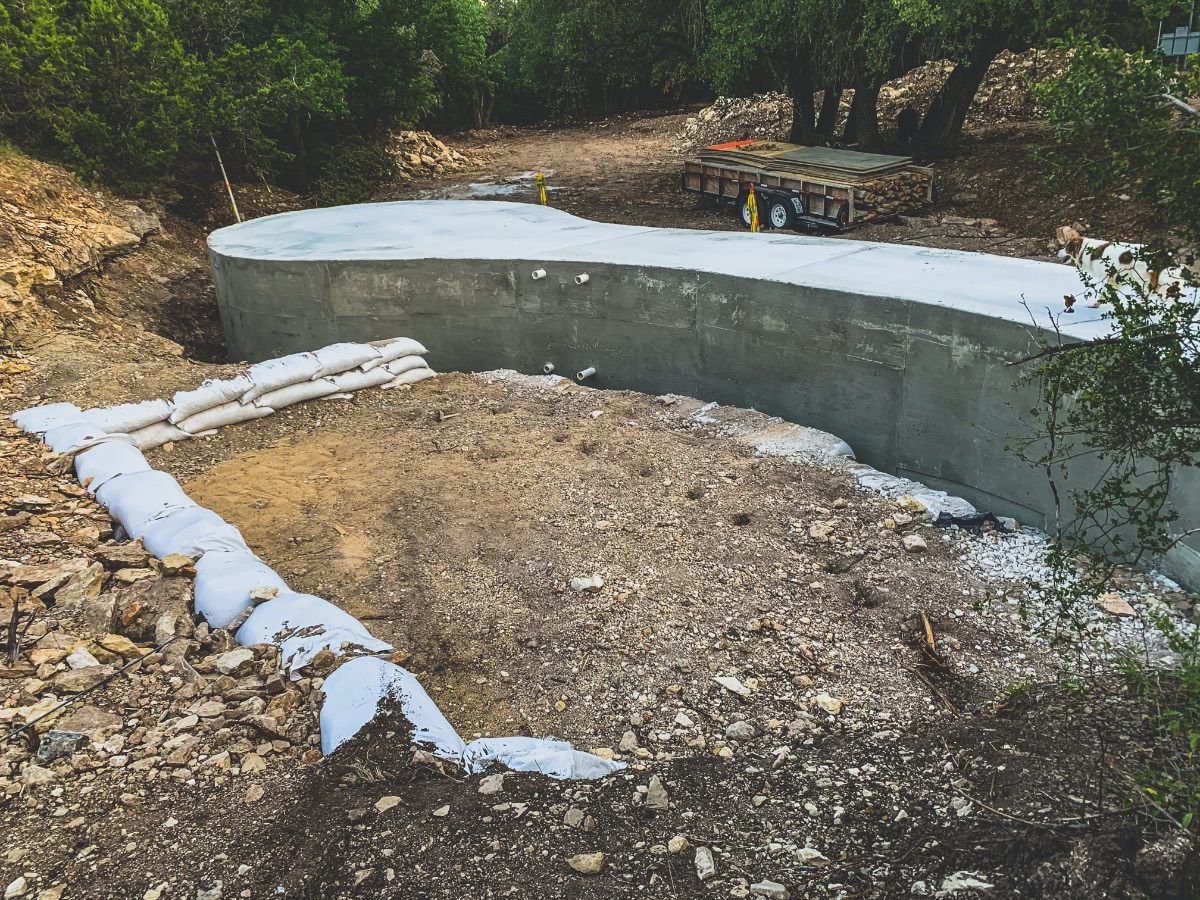 Our new glamping pods are about to go to the top of your bucket list!
Spend a night in a Sioux-style tipi, complete with an indoor fire pit, plush bedding, mini-fridge & coffee station - sorry, no TVs in these beauties. Due to popular request, these tipis will feature bunk beds (queen on the bottom and twin on the top), to provide a cozy option for a family of three! We can even add a cot for 4 if you so desire. Book Camp Verde or Camp Comfort today!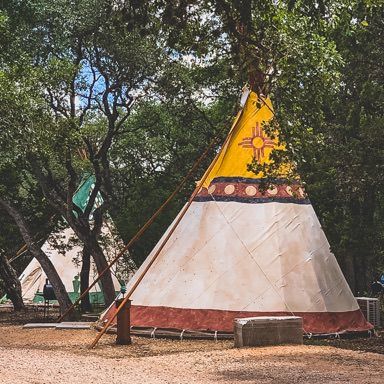 Our new Sioux-style Glamping Pod tipis G4 (Camp Comfort) and G5 (Camp Verde) located in the primitive section. Check out the map to find the new location.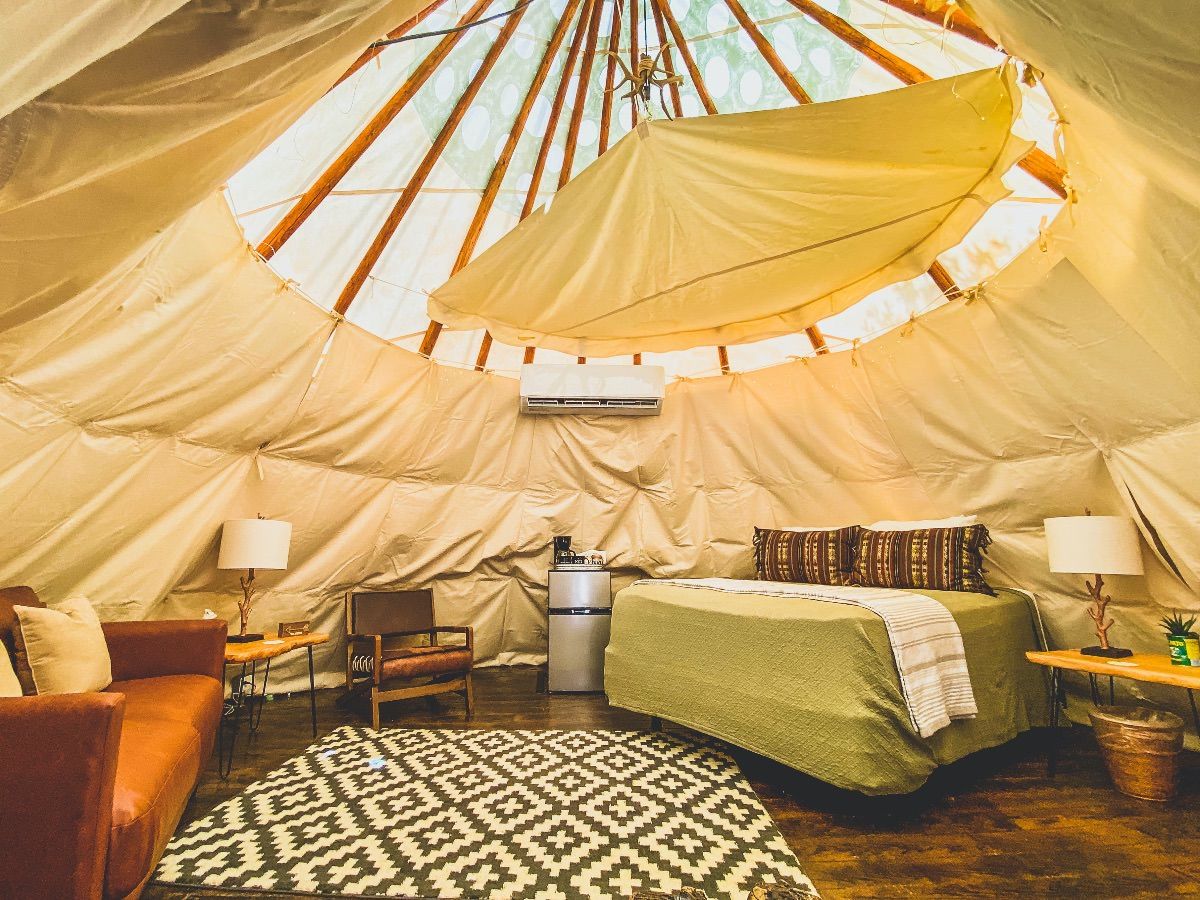 We have a delay of our tipi bunk bed frames coming from Colorado (they will replace the queen bed shown above). We are hoping to have them at Mystic Quarry and installed in our latest G4 and G5 Glamping Pod Tipis before Labor Day.
We are in the process of adding 3 new Safari Tents and planning to complete them this fall. Here is a sneak peek of the construction process.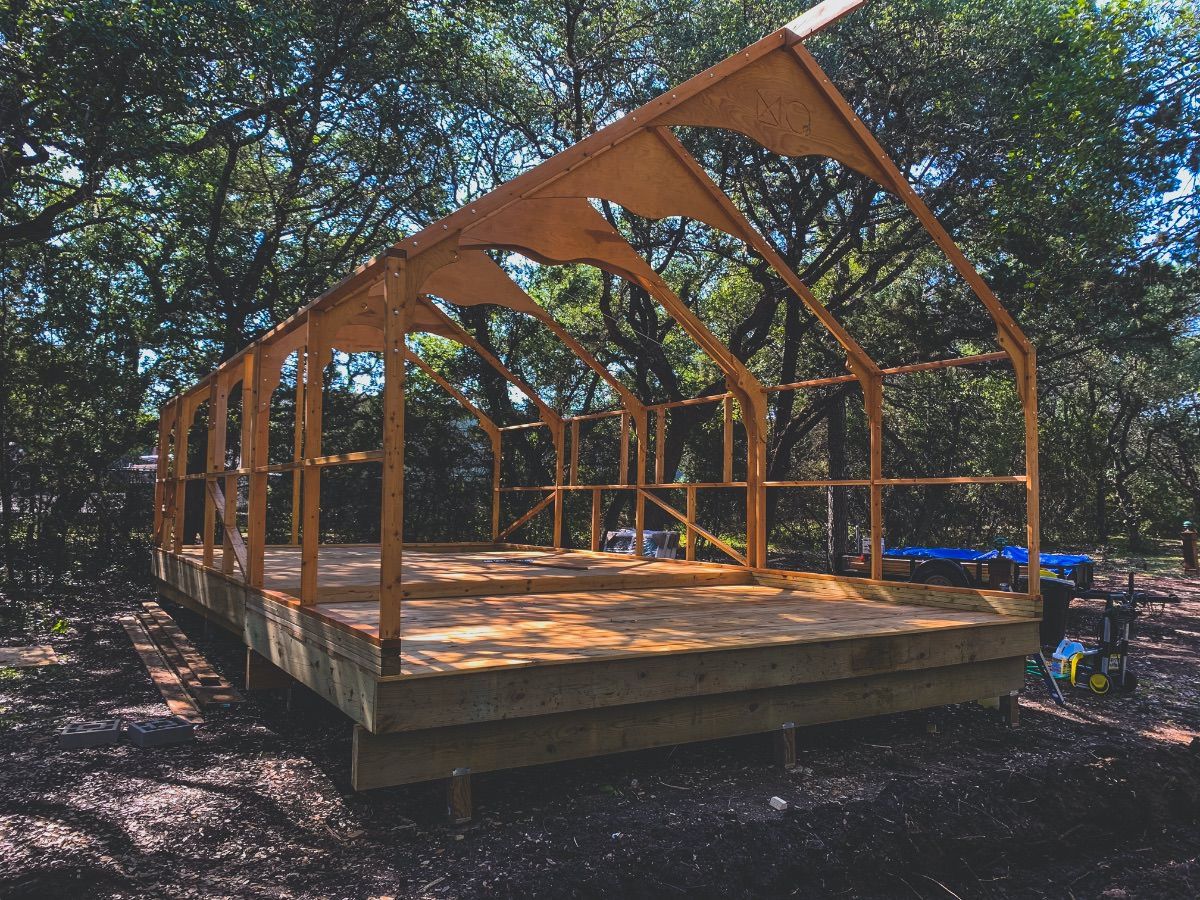 Glamping Pod #6 (named Bee Cave) is under construction. The week of August 10th, we will begin constructing the other two Glamping Pod frames #7 (Buffalo Gap) and #8 (Eagle Pass). Check out the map to see the location of our Glamping Pods.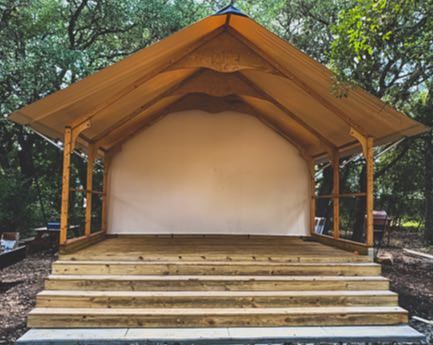 Canvas and rainfly are on the Bee Cave Glamping Safari Tent Pod. We are waiting on the French doors to arrive for installation. These new safari tents by Rainier Outdoor are one of a kind. Check out the link to see the exterior of a finished Raineir Cottage - the inside will be stunning!
Hill Country Happenings
Fun in the sun isn't canceled! There are plenty of things to do around MQ that allow for social distancing. Cool off in the Guadalupe River! The river is still open for tubing- just need your own transportation & tubes. We recommend going midweek when there are far fewer people out & about.
Hike around & swim in Canyon Lake at Madrone Trail- you'll have this spot to yourself if you make it in the morning!
Or schedule a Gorge Tour to learn more about this amazing piece of history that was uncovered from heavy rainfall in 2002! The gorge features fossils and dinosaur prints: it is a great time for the entire family! They are requiring reservations, smaller groups and enforcing social distancing so it is a great time to check it out!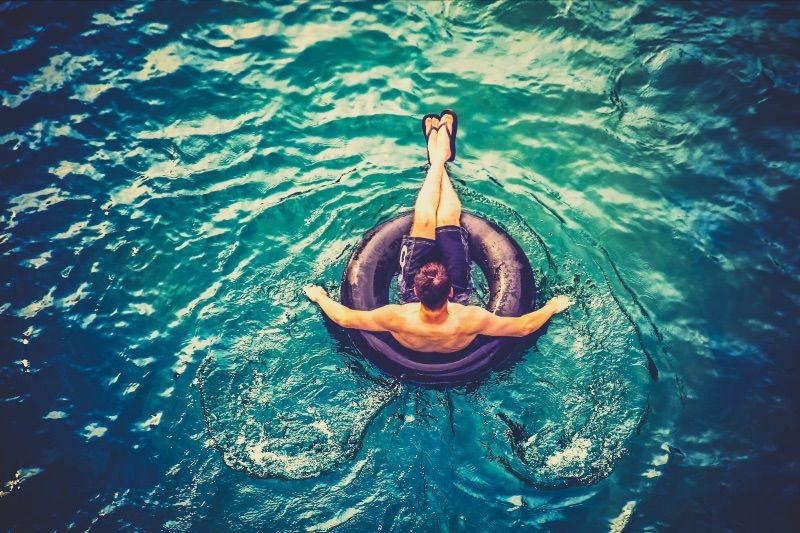 Tubing the Guadalupe River
While at the Quarry…
MQ hosts Music Under the Stars most Friday nights of the summer. Grab your lawn chairs and come space out on our courtyard, enjoy some music & yummy food! Our lineup includes (subject to change)
2020 Pints-N-Pups
It comes with heavy hearts to announce that we have officially canceled our third annual Pints-n-Pups event in 2020 due to COVID-19 business restrictions and unknowns. We had initially moved it to September in hopes we would be past the current pandemic situation. But, given this summer's 2nd wave and increased restrictions on events with more than 100 people, it is best to cancel this year and put our efforts into making it better than ever for 2021. Mark your calendars for May 8, 2021!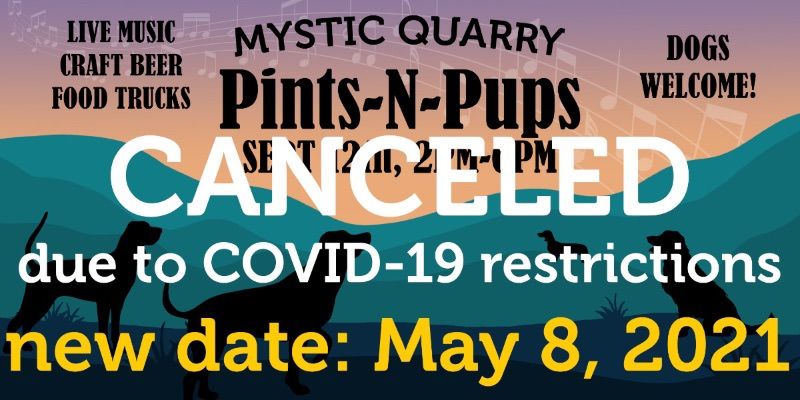 2021 Winter Texans
It is that time already- Calling All Winter Texans! If you didn't already know, Mystic Quarry is the place to be! We have the best crew of folks who join us from all across North America to have some fun and relax. We offer both indoor accommodations (some are dog friendly!) and RV sites. Our midsized resort allows there to be something for everyone to enjoy while recognizing our MQ family! Some of our Winter Texan events include happy hour, cards/board games, morning coffee, gardening, and many offsite events! Check out our Winter Texan page and the calendar for last year. Our Winter Texan coordinators provide a fun-filled winter for all. Call to book: 830-964-3330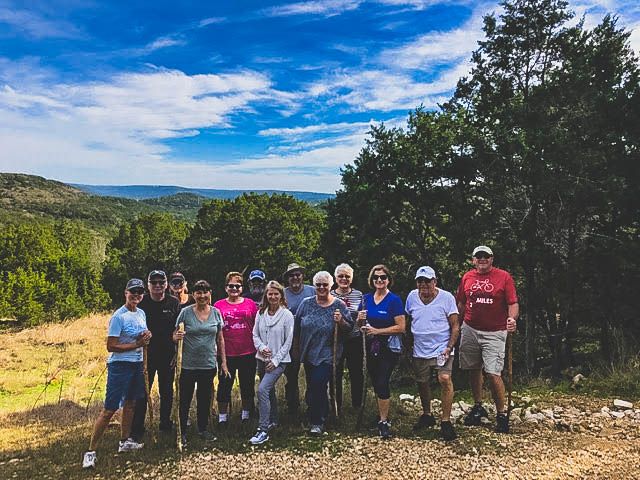 Mystic Tips & Tricks
Does WFH (Work From Home) really need to always be from home? We think not! Change up your surroundings and book your stay at MQ today. We offer excellent Wi-Fi throughout the pack with optional high-speed streaming Wi-Fi, at low daily/weekly rates, so you won't miss a beat on those conference calls! Mid-day breaks can mean a jump in the pool, a game of horseshoes, a walk around the nature trail… Get in plenty of work & play, now that's work-life balance!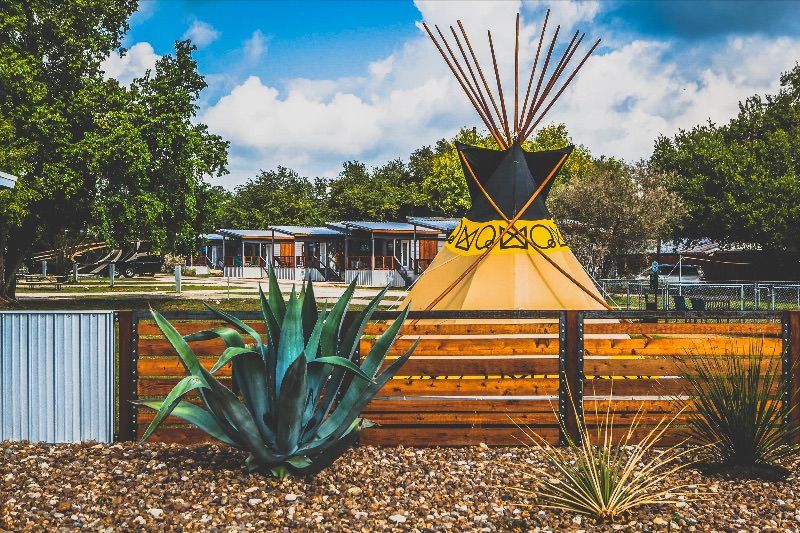 Quarry Quotes
"Life is like riding a bicycle. To keep your balance, you must keep moving." Albert Einstein
If you have noticed during your visits to Mystic Quarry, we never stop improving and adding to the resort. This is one of our favorite quotes, so we thought we would share it with our Mystic Quarry audience.
A Note from Jim & Courtney
We would like to send a special Thank You to all our guests that have stayed at Mystic Quarry over the summer. We greatly appreciate our staff that does everything possible to make your stay the best it can be - we are all committed to providing a clean, safe and COVID-19 compliant resort.
Mystic Quarry Resort does provide a great place to social distance while offering the ability to get away from the hustle and bustle of the big city. We feel very blessed to have so many wonderful repeat guests - believe us, we absolutely love all of you ... Your kind words encourage us and make us feel like we have created something special. Thank You!
We are committed to continue building new & exciting accommodations and features at the resort to provide you, the family and friends with new Glamping options and areas to just relax or have fun. We want you to have a memorable vacation with your family & friends.
Please do not hesitate to reach out to us at info@mysticquarry.com to provide any feedback, comments or concerns that may have impacted your stay or that would make your stay even better. The best ideas come from our guests, so do not hesitate, we will listen!
Don't forget to download our Mystic Quarry app at the iPhone or Android App Store. It has many cool features: provides remote check-in (remote payment coming soon), area restaurants (numbers and directions), maps of Mystic Quarry and the Canyon Lake area plus provides the ability to order items from the general store and have them delivered to your site - how cool is that?!
Lastly, look for our new, upcoming YouTube channel (Mystic Quarry Resort) that we will try to update frequently with new content, including a time-lapse video of us building the new waterfall feature.
We hope you will be able to spend time with us here at Mystic Quarry and enjoy the many activities around the local area to make your stay fun-filled and memorable. We like to think of Mystic Quarry as a microcosm of the qualities you want in a community: friendship, family and good memories tucked in a vibrant landscape!
Follow us on Instagram or Facebook - The best way to keep up with all the goings-on at Mystic Quarry!